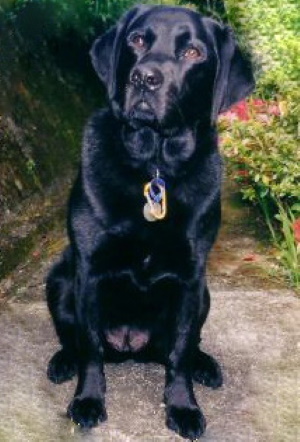 Welcome to
Collars by Chris
Handmade in New Zealand using quality cotton quilting fabrics, grosgrain ribbon or N.Z manufactured jacquard over webbing. They are well made with adjustable side release buckles and welded heavy duty s/s D rings. Stress points are double box  stitched using an industrial sewing machine with UV resistant thread for maximum durability. All collars are made with dogs comfort and safety in mind. Leads are triple stitched.
All collars can be made to measure and if there is something special you would like I would be happy to work with you to make it.
Fabric collars are best not worn 24/7.  Chlorine and sea water, dogs claws scratching or teeth of dogs playing can shorten the life of collars.
I don't reommend for tie out.
My dogs have been wearing them for 2 years and still look good.
It is the owners responsibility to buy a collar to suit their dog and check all collars regularly. I suggest hand washing or machine in a delicate detergent and lay them flat to dry.
If you are not completely satisfied I will replace or refund the collar. The collar must be in original condition. If you stand on the hardware, your dog chews it or other reason it no longer works I will replace for you.
.
Latest News
This is written with tears. When Lyn was diagnosed with Bone Cancer the hardest thing for her was not being around to see her children happily married and their children. Emily was happily married. Em and her husband Matt and Nathan loved Lyn and she was so proud of them. Throughout the years Lyn would go into remission only to…
I first started making collars as they were so expensive here in N.Z. and I wanted something nice for the dogs. Then I made them as gifts for friends overseas using N.Z fabrics. I was making a couple for friends and as I have a lot of trouble putting hardware on after a head injury I sat and did with…
I can not remember the dates as the blog vanished and I am redoing it. The collars we made looked amazing. Lyn has been in a lot of pain and decided to go into the hospice. I hated to see her this way. It was Christmas and I was going to Australia to spend time with family. I hated to…
Stylish Designs
stand out from the pack with a stylish design
Fully Adjustable
adjustable size range for maximum comfort
Easy to Clean
hand wash with cold water just like new
Strong and Safe
keep even the toughest dogs contained
Handmade in NZ
hand-made in Wellington, New Zealand
Testimonials
Happy Customers
Fantastic quality collar – our girl Meg looks great in it. Great prompt and friendly communication from Chris, too. Awesome!
Love our puppy Tacins new collar. Beautifully made and looks very sturdy. The little treats for Tacin which came with the collar were a lovely surprise.
So happy such awesome collars and leads! thank you so much
We recently purchased a daisy collar for our girl, it looks lovely, great quality – thanks!
These pet collars are just too cute! Jazz up your beloved pet and make them feel like a million bucks, because gorgeous creations are beautiful and fancy!
Thank you so much for Walters Rainbow Collar, its awesome. Also a huge thank you for the extra 2 collars for Pound Paws Rescue in Oamaru! those collars will be in the post to Pound Paws Rescue next weekend. So very much appreciated!
5 out of 5 stars. Not only was Chris responsive and just all around a truly a great seller, but the collar itself is BEAUTIFUL. NZ has a special place in my parents' heart so it was great to get something to remind them of it. Beautifully made and fits our dog perfectly.